About The Festival!
In 2011, the Town of Wallace, lead by a core group of leaders, brought the Strawberry Festival back to Wallace after 50 years. Each year, the Carolina Strawberry Festival has grown bigger and better. The Festival has a broad selection of Music & Events in Wallace that will entertain the entire family!
We will kick-off the 2020 Carolina Strawberry Festival in Downtown Wallace on Friday, May 1st from 6:00 pm – 11:00 pm with Rivermist Band, Liquid Pleasure, Dinosaurs, One Price Midway Rides and Food Vendors.
The Festival continues on Saturday, May 2nd, starting at 10:00 am. The day will be filled with performances by local talent, craft vendors, food vendors, Dinosaurs and Midway rides for kids. The evening, ending at 11:00 pm, brings The Johnson Boys and The Band of Oz to the stage!
Thank you for your help in supporting the Carolina Strawberry Festival in Historic Downtown Wallace.
Thanks to Thurman Parker Photography for the festival photos
Become a Volunteer
Be a Part of the Great Event!
Enjoy the Festival Atmosphere
Watch the latest fest videos
Festival Art!
2020 Carolina Festival Art created by Wallace Artist Hope G. Smith
Once again Hope G Smith has captured the spirit of the Carolina Strawberry Festival. The artwork depicts downtown wallace during the festival.
This is the artwork that will be produced on the festival t-shirts and and will be available as prints in Hope's store, Art of Hope, on Main St.
T-shirts are currently available for sale. A table will be set up in front of Hope's store during the Wallace Christmas Parade. Following the parade, shirts will be available at Art of Hope.
Short sleeve T-shirts are $15. Long sleeve shirts are $20.
During the festival, remaining t-shirts will sold at the CSF booth at the Train Depot. These shirts are sure to go fast so get yours early!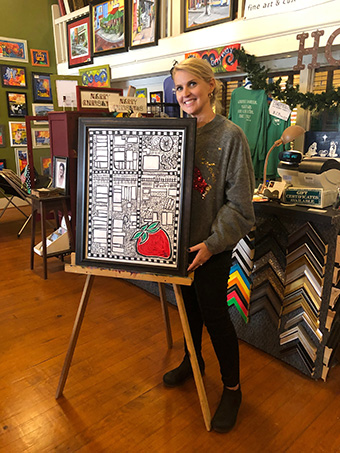 Contact Details
Carolina Strawberry Festival
Address
Mailing Address:
316 E Murray St
Wallace, NC 28466

Event Location:
Historic Downtown Wallace
100 NW Railroad St
Follow Us