About The Festival!
In 2011, the Town of Wallace, lead by a core group of leaders, brought the Strawberry Festival back to Wallace after 50 years. Each year, the Carolina Strawberry Festival has grown bigger and better. The Festival has a broad selection of Music & Events in Wallace that will entertain the entire family!
Become a Volunteer
Be a Part of the Great Event!
Enjoy the Festival Atmosphere
Watch the latest fest videos
Festival Art!
2020 Carolina Festival Art created by Wallace Artist Hope G. Smith
Once again Hope G Smith has captured the spirit of the Carolina Strawberry Festival. The artwork depicts downtown wallace during the festival.
This is the artwork that will be produced on the festival t-shirts and and will be available as prints in Hope's store, Art of Hope, on Main St.
T-shirts are currently available for sale. A table will be set up in front of Hope's store during the Wallace Christmas Parade. Following the parade, shirts will be available at Art of Hope.
Short sleeve T-shirts are $15. Long sleeve shirts are $20.
During the festival, remaining t-shirts will sold at the CSF booth at the Train Depot. These shirts are sure to go fast so get yours early!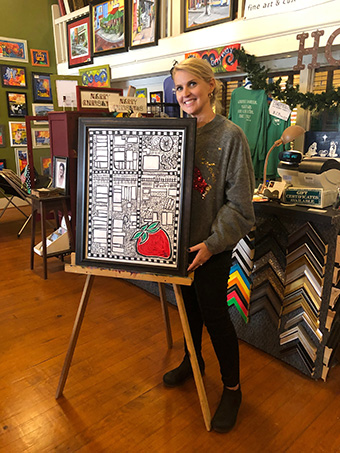 Contact Details
Carolina Strawberry Festival
Address
Mailing Address:
316 E Murray St
Wallace, NC 28466

Event Location:
Historic Downtown Wallace
100 NW Railroad St
Follow Us